Company Profile
Schaan Healthcare Products Incorporated - Celebrating 43 Years in Business
For 43 years, Schaan Healthcare Products Inc. has served Saskatchewan as a leading distributor of medical and surgical supplies to health care facilities including hospitals, nursing homes and personal care homes.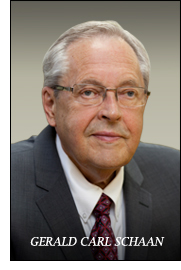 Founded by the late Mr. Gerald Schaan on July 1, 1980, Gerald always believed the primary strength of Schaan Healthcare Products was in its ability to provide the Saskatchewan health care market with quality brand name products through personalized yet professional service.
When the company first started in 1980, Schaan Healthcare Products had a total of six employees. Now 30+ staff members are involved in the company's management, sales, clinical inservice, customer service, warehouse and distribution.
Today, the position of President & CEO is held by Mr. Collin Schaan. As the son of Founder Gerald Schaan, Collin was fostered in the ongoing development and commercialization of Schaan Healthcare Products from his earliest recollections. Collin brings over 25 years of organizational experience in all phases of the medical and surgical distribution process, including procurement and distribution, service and supply, efficient operations and organic growth.
Collin credits the expertise and commitment of Schaan Healthcare Products employees to the long-term growth of the company. "The company and its staff are dedicated to providing the highest standard of service to our customers. Our staff is knowledgeable and hardworking". He adds that Schaan Healthcare Products has grown despite facing an often difficult market. "During the past 40 years, we have faced many challenges mainly due to industry consolidation and health care spending cutbacks. We have responded by establishing a level of excellence in our logistical services that have not only allowed us to maintain our customer base, but permitted vigorous growth." The company has met the changing needs of today's health care providers by providing one-stop service and bundled product offering. "We've built this company by offering outstanding service, higher standards and quality products that meet the needs of and tailor to our individual customers," says Collin.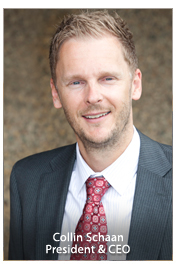 Schaan Healthcare Products Inc. is recognized as a reliable source of the newest and most advanced medical and surgical supplies on the market. "Our manufacturers bring us new products as they are introduced to the marketplace. We evaluate them to see if they meet our customers' needs. Based on the results of that evaluation, we will promote and market those products."
Schaan Healthcare Products customers also benefit from the company's involvement in U.S. purchasing group, Abco Dealers Inc., the original cooperative of independent medical and surgical supply distributors. Abco was established in 1953 by a group of independent businesspeople dedicated to negotiating better pricing and services on medical products and equipment through volume purchasing. Today, the buying group known as NDC remains a powerful industry leader providing medical supply distributors access to our manufacturers' purchasing contracts, central warehouse, logistics and a full range of support programs.
"Our association with NDC means we are part of a national distribution network," Collin reports. "The association also enables the company to share in the pricing benefits of high volume purchases and pass the savings to our customers. Finally, they have opened the door to many new products."
As it enters its 4th decade in business, Schaan Healthcare Products remains a family owned and operated business. Gerald's sons and daughters - Collin, Kevin, Rosann and Shelly - all play active roles in the company. This means the company will continue as it has for the past 43 years. "It is our desire to continue to be among the best health care suppliers in the distribution industry in the many years to come."