In situations where purchasing medical equipment seems unreasonable, a temporary solution may be necessary. With our customizable rental plans, we can help you get the equipment you need. Choose from a wide range of products for rent on a daily, weekly, and monthly basis. For additional information about our rental program, call us at (306) 664-1188 or email customerservice@schaanhealthcareproducts.ca.
Steerable Knee Walker - Adult/Pediatric
Daily: $10 │ Weekly: $25 │ Monthly: $75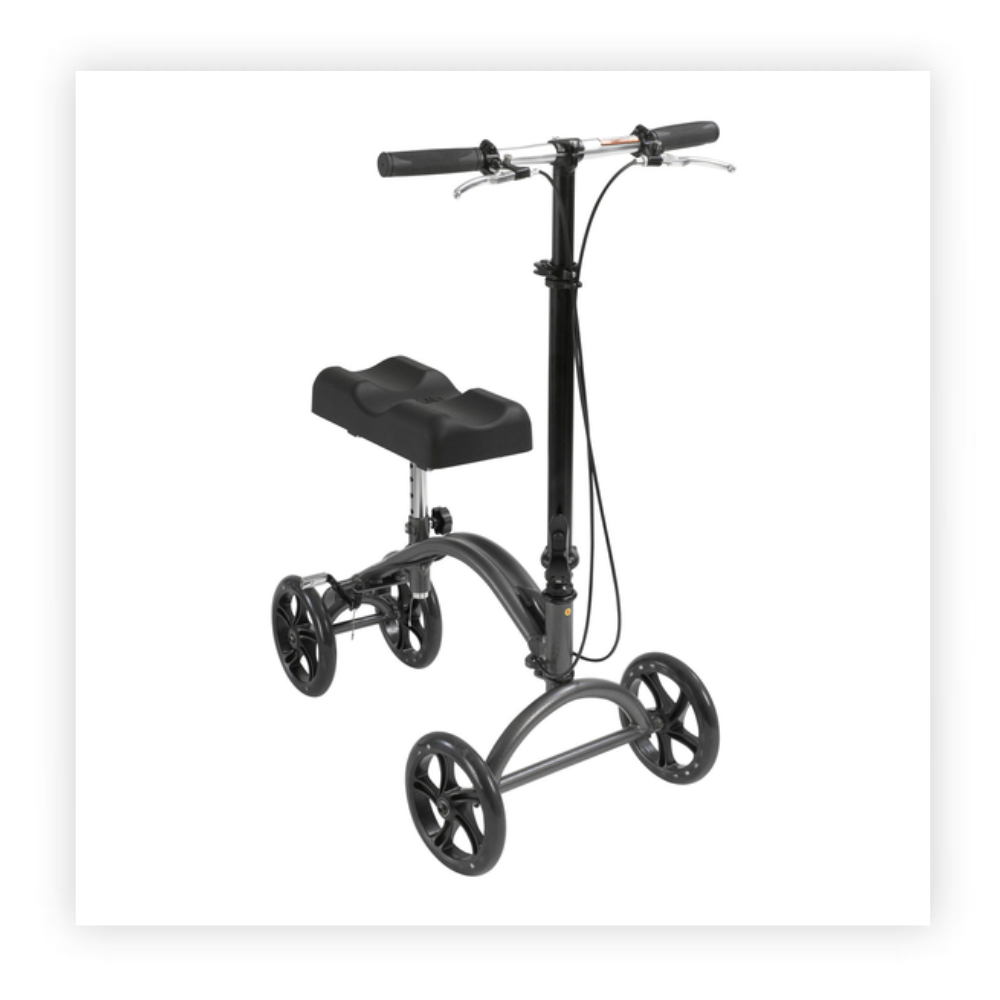 The DV8 Steerable knee walker by Drive Medical provides a comfortable, pain free alternative to crutches and is ideal for individuals who are recovering from foot surgery, breaks, sprains, amputations, and ulcers of the foot.
Can be steered for increased maneuverability
8" casters are ideal for indoor/outdoor use
Deluxe braking system
Tool free height adjustment
Two-piece padded leg pad provides stability and comfort
Durable, steel frame with silver vein finish
All-Terrain Knee Walker
Daily: $15 │ Weekly: $50 │ Monthly: $150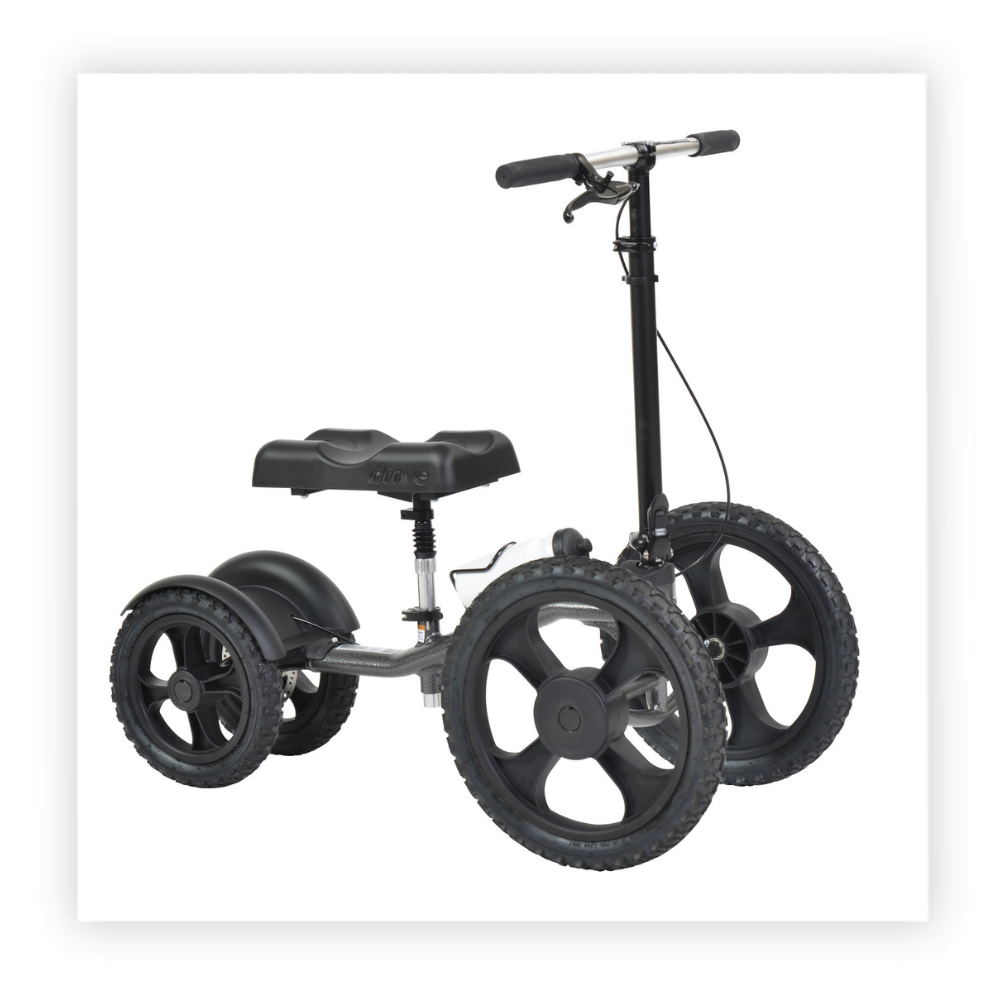 Rugged. Versatile. Convenient. If you are recovering from a below-the-knee injury or surgery, the 990X Knee Walker is designed to keep you active and moving. With a rugged, steel frame and four large tires designed to never go flat, the 990X is extremely stable for indoor or outdoor use and maneuvers easily over gravel, dirt, grass, mulch, and uneven pavement.
Two 16" front wheels and two 12" rear wheels with enhanced traction
Heavy-duty, extended-wear disc brake enables quick stopping for unparalleled safety
Knee cushion with suspension is crafted for comfort to reduce potential pressure on shin and knee
Foldable steering column allows for secure, compact storage and transport
Complimentary water bottle and custom bottle holder make staying hydrated during travel easy
Silver Sport 2 Wheelchair
Daily: $10 │ Weekly: $25 │ Monthly: $75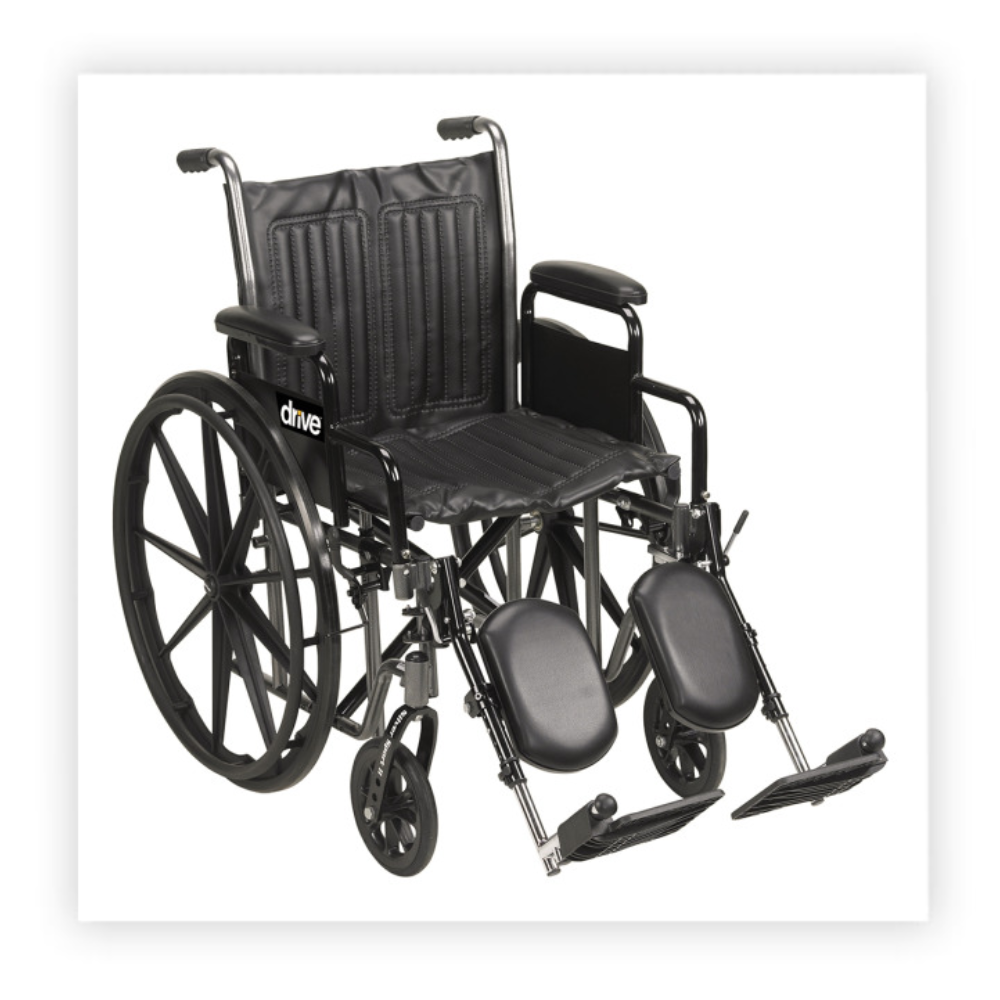 The 18" Silver Sport 2 Wheelchair with Detachable Full Arms and Swing Away Footrests by Drive Medical comes with a powder coated, silver vein steel frame for durability. The urethane tires are mounted on composite wheels to provide durability and a smooth ride over most surfaces. The embossed, vinyl upholstery is durable, lightweight, attractive and easy to clean.
8" front casters, adjustable in three positions
Padded armrests provide additional comfort
Carry pocket on backrest for additional convenience
Swing-away elevating leg rests with tool-free adjustable length riggings
Plastic foot plates with heel loops on footrests
Push-to-lock wheel locks
DynaRide Series 2 Wheelchair
Daily: $10 │ Weekly: $25 │ Monthly: $75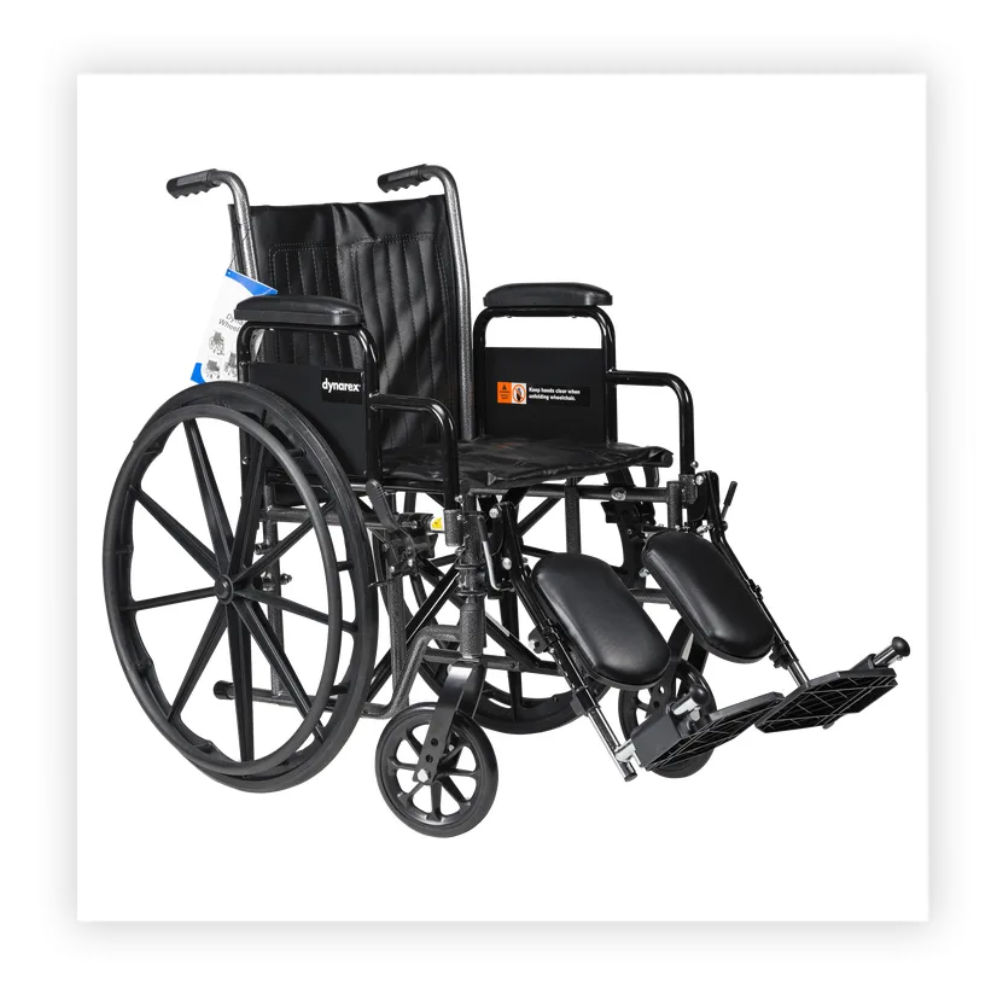 The DynaRide Series 2 Wheelchairs are dependable and perfect for long-term use. The dual axle provides an easy transition from a standard seat level to hemi-level, as well as multi-position caster forks for an adjustable seat height of 18 or 20-inches. The wheelchairs come standard with 24-inch wheels, solid non-marking rubber tires, and composite hand rims with push-lock brakes.
Powder-coated steel frame with silver vein finish
Black, padded, vinyl upholstery
Detachable, padded armrests (desk and full-length)
Tool-free, adjustable, elevating leg rest or swing-away footrests with heel loops
Includes built-in chart pocket
24" solid rubber rear wheels feature hand rims and push-lock brakes
Dual-axle provides adjustment from standard height to hemi level
4 Wheel Rollator
Daily: $5 │ Weekly: $15 │ Monthly: $45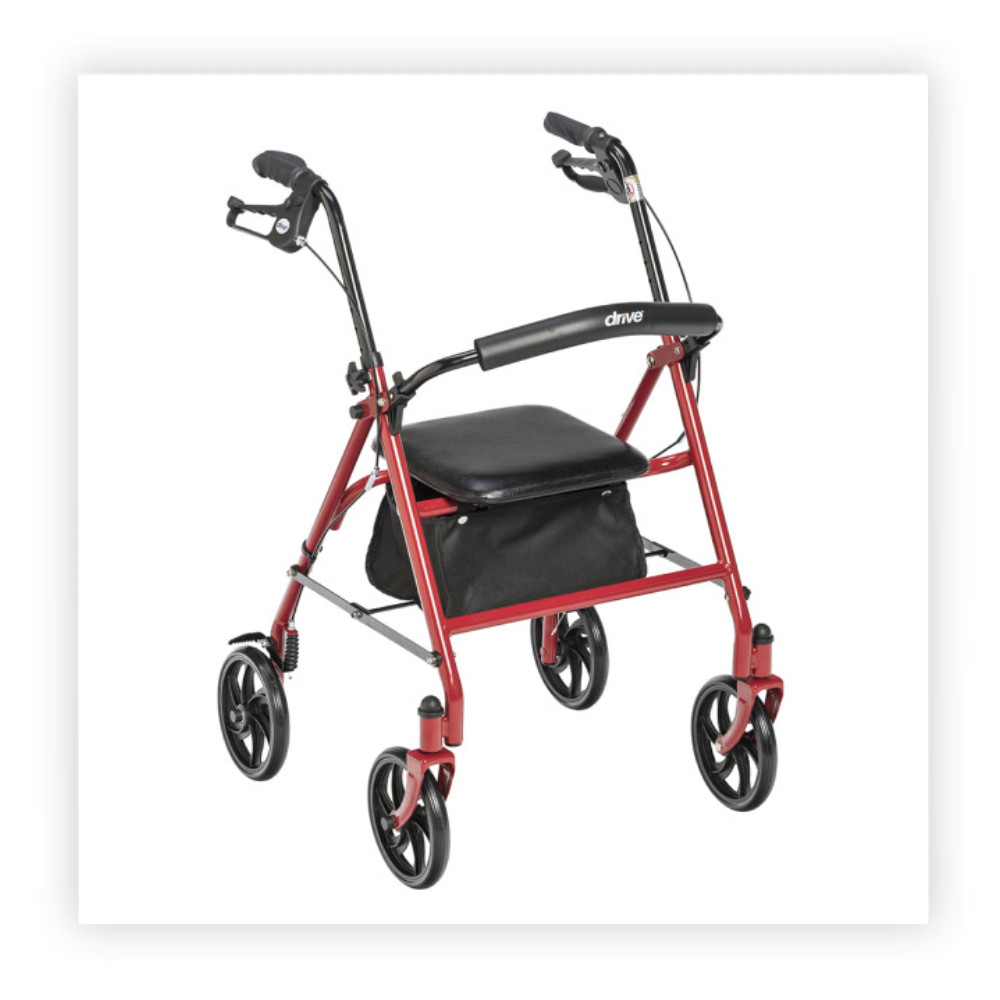 The Four Wheel Rollator Walker comes complete with a removable, hinged padded backrest. It also arrives with comfortable seating along with a convenient pouch which you can use to store personal items.The 7.5 inch non-marring wheel casters are ideal for both indoor and outdoor use. You also get ergonomic handles that can be adjusted according to your height, making the gripping of handles especially convenient and comfortable.
Durable steel frame
Convenient mobility with a comfortable, restful seat
Easy-turn lever for quick height adjustment
Deluxe hand brake can be pressed when needed or pushed down to lock rollator into place
Easily folds for transport or storage
Eye Recovery System w/Carry Bag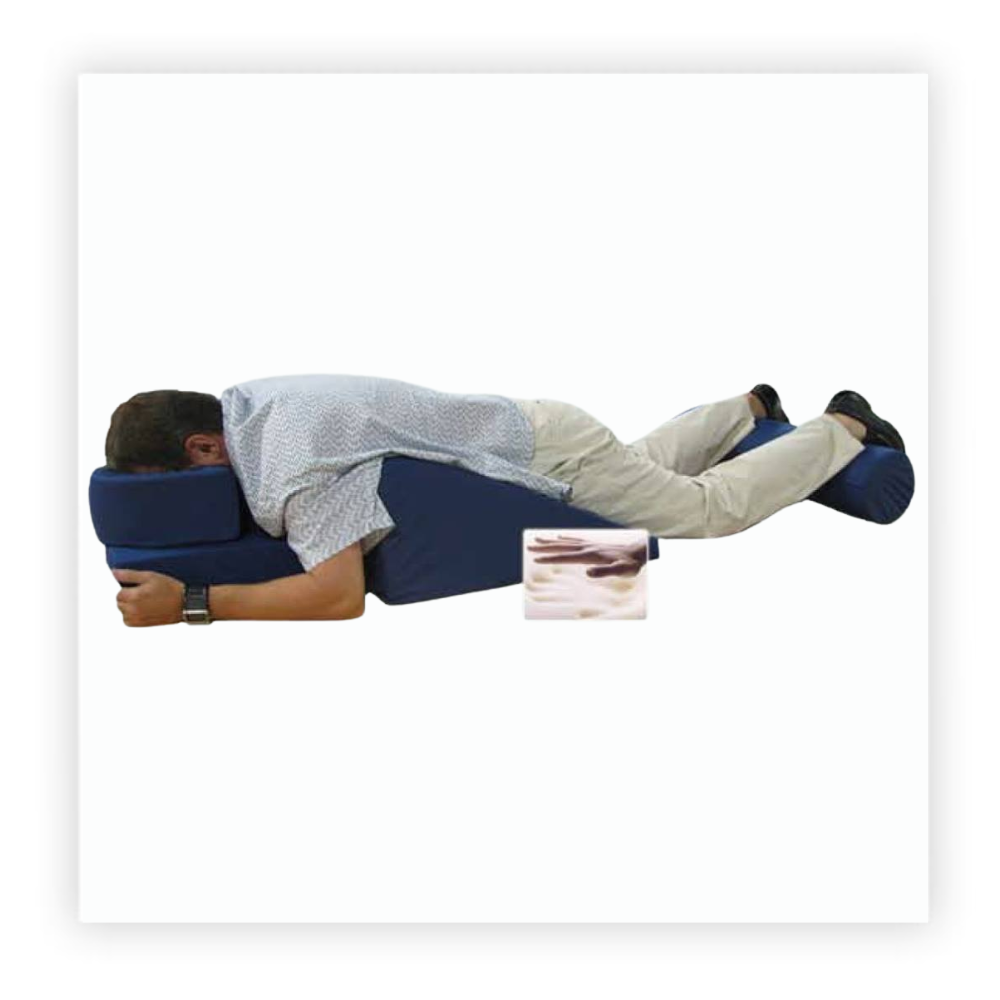 The Vitacare Eye Surgery Recovery System was designed for anyone that is scheduled to have Pnumatic Retinopexy or Virectomy eye surgery. After this highly sensitive surgery, Ophthalmologists strongly recommend remaining face down for a minimum of 16 hours per day, for up to 4 weeks. The Vitacare Eye Surgery Recovery System offers premium comfort, support and durability during this lengthy convalescence period.
Face Cradle (Recovery 5 Incontinent Cover, topped with Visco "Memory Foam")
Body Wedge (13" x 24" x 24", Recovery 5 Incontinent Cover, topped with Visco "Memory Foam")
Ankle Roll (8" x 27", Recovery 5 Incontinent Cover)
Waterproof zippered bag