Walkers and Rollators
We have a variety of walkers, rollators, and other mobility aids in our store at 2346 Millar Avenue in Saskatoon. Our experienced staff will help you find the right option for your needs and your size to help you stay mobile and moving comfortably!
We offer premium and less expensive mobility aid options so you can stay within your budget. Walkers and rollators are tax exempt!
We recommend checking with your private health insurance provider to see if you can be reimbursed for your purchase of a mobility aid. We will provide you with the invoice to make a claim. This may also require a doctor's prescription.

Our lineup of side-fold rollators at our store.
Benefits of Walking With a Mobility Aid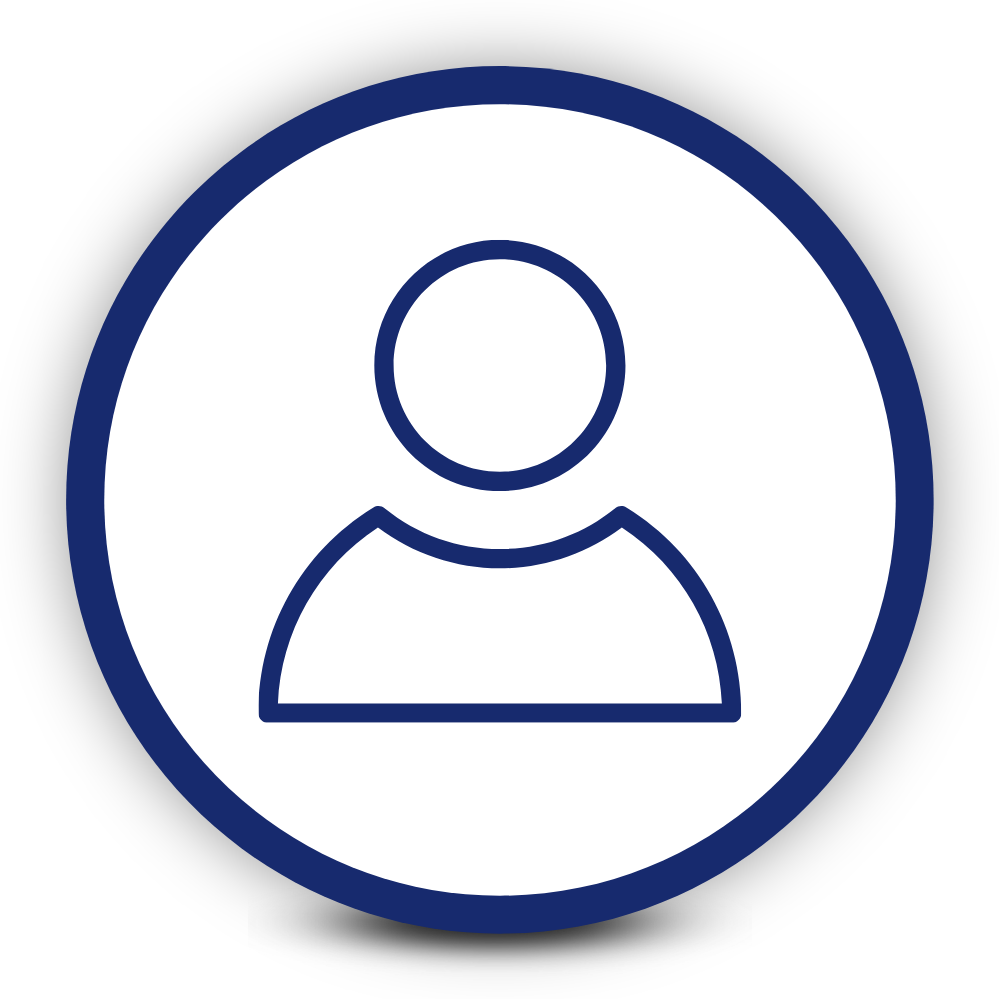 Helps you maintain your independence:
A walker or rollator can help you move around the home and do your daily activities on your own.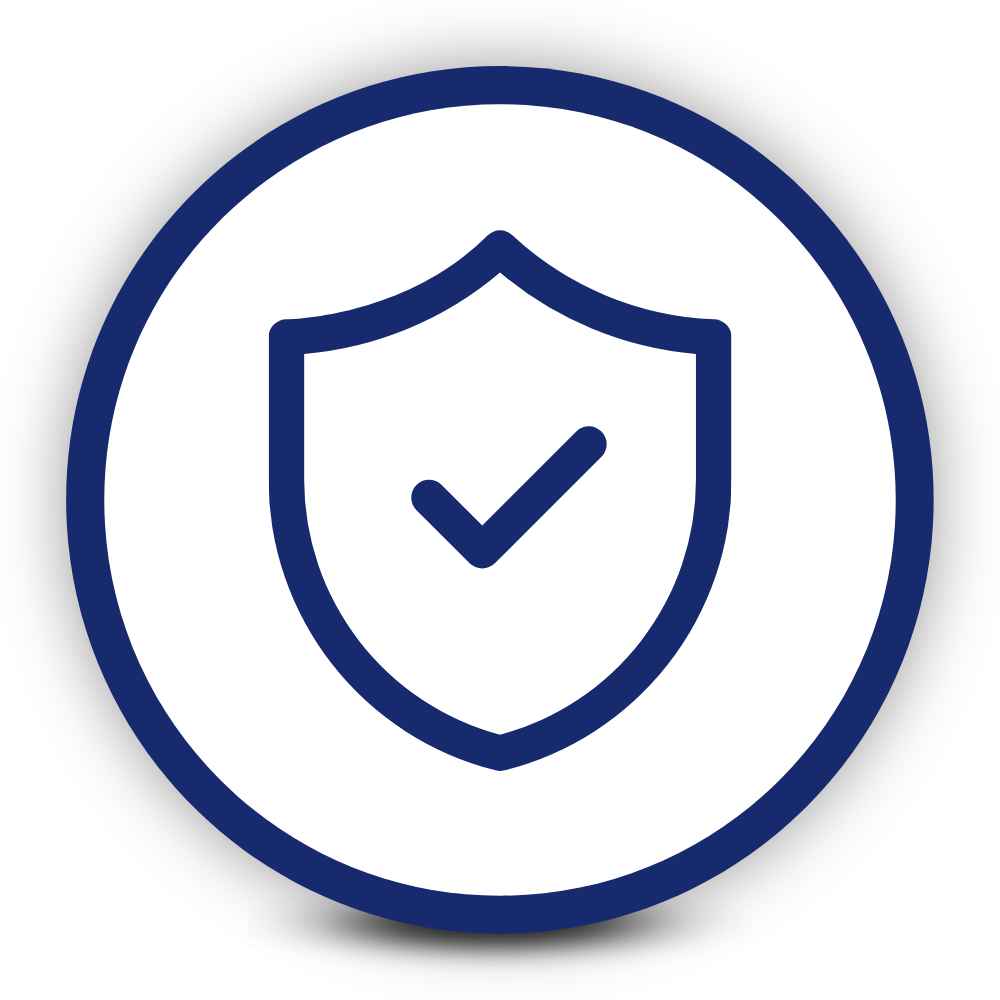 Safety:
Provides support and stability to prevent falls while walking, standing up, or sitting down.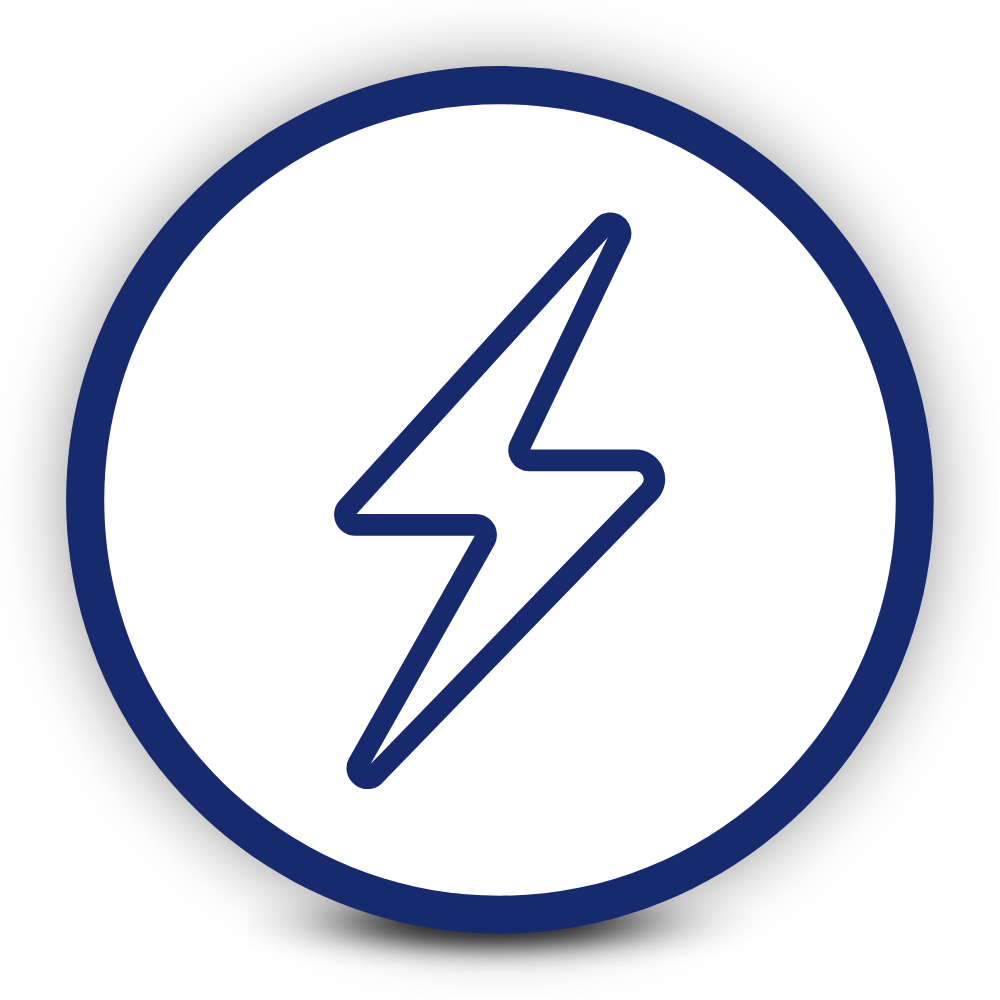 Walk farther and for longer:
Taking weight off your feet makes walking easier, and you can have a seat when you need a break!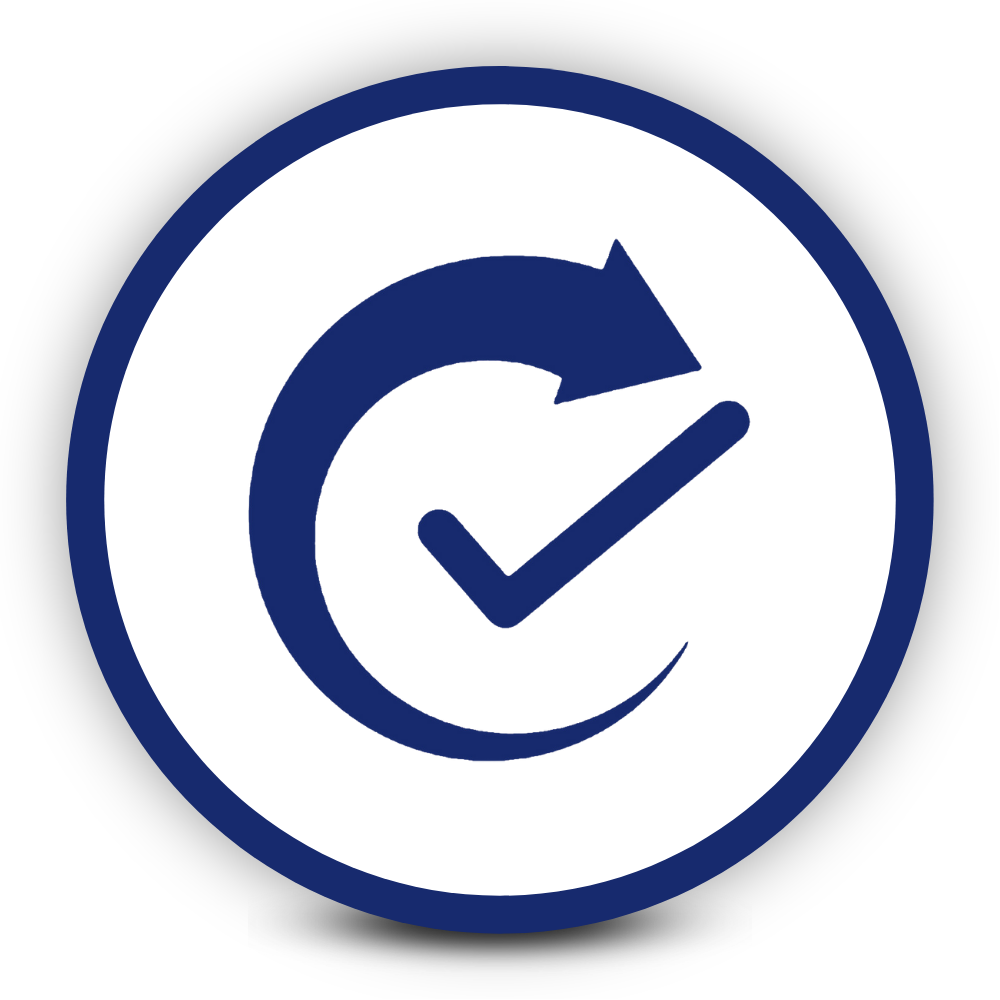 Convenience:
Basket/bags and accessories such as cup holders and cane holder let you take all your things with you.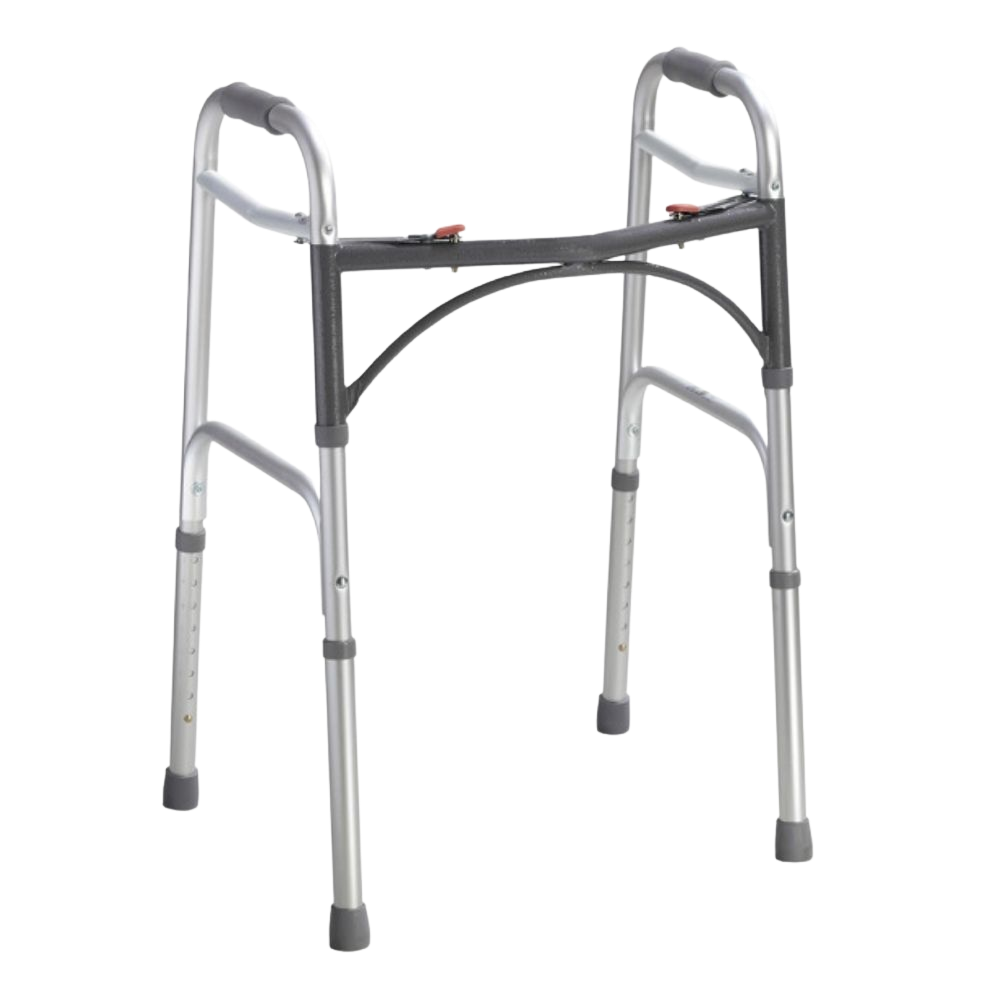 Walkers
Walkers are an affordable and traditional option for mobility assistance. They are stable and keep you from falling forward while walking. They are ideal for those who need lots of support while standing or walking.
Standard Folding Walker: Offers stability and support when standing up and sitting down. No wheels or glides make it the most stable but the least manoeuverable option.
Travel Walker with Wheels: 5" wheels in the front and skis in the back help move along without lifting the walker. It's fully collapsible and comes with a carrying pouch. It weighs only 8 pounds so you can take it with you anywhere you travel!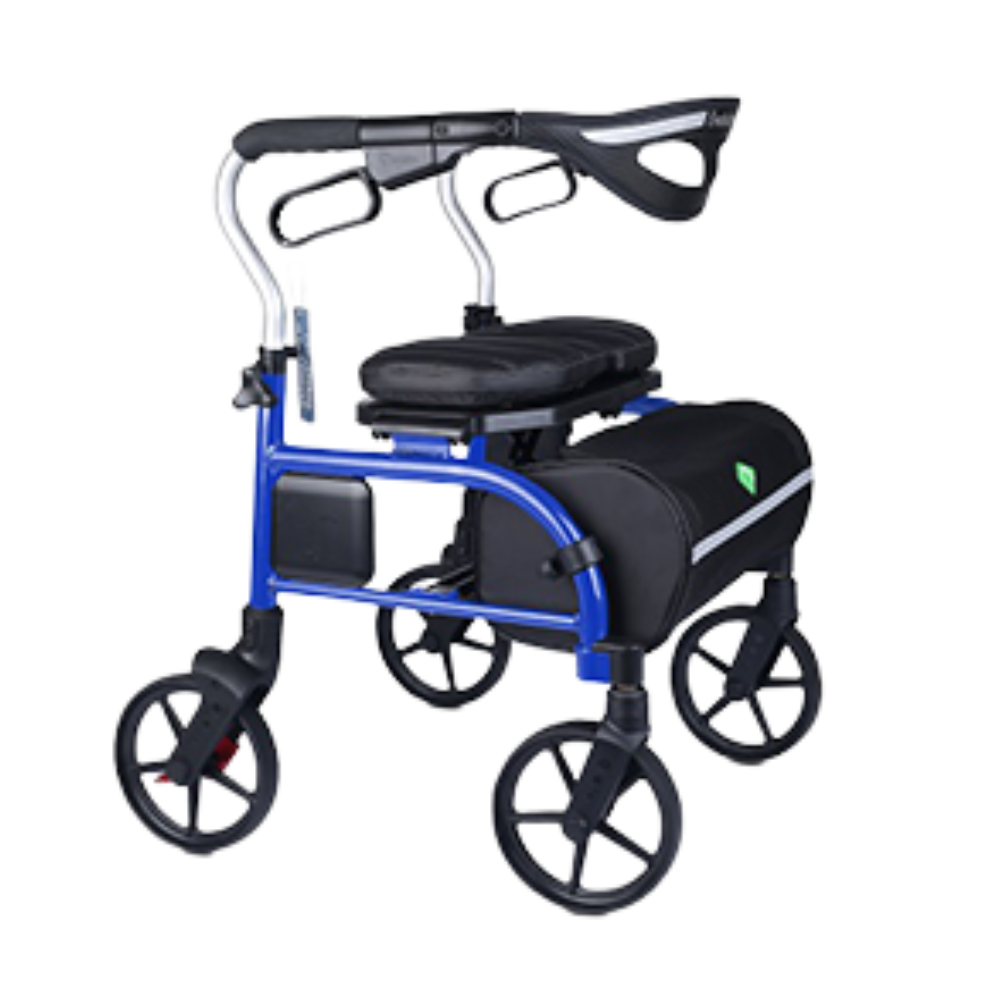 Rollators
The standard walker has evolved to become a stylish and comfortable device with durable wheel casters for a smooth and comfortable walking experience. Hand brakes help you stay balanced while moving.
All of our rollators are easy to fold up and transport. They also have foldable seat so you can sit comfortably when you need a break.
Airgo eXcursion: Ultra-lightweight and stable with 8" wheels for a comfortable walking experience.
Drive Basic Aluminum Rollator: Lightweight aluminum frame and 6" casters with soft grip tires for indoor and outdoor use.
Drive Nitro Sprint: The contoured backstrap with viewing window and integrated slow-down brakes allow for controlled speed when navigating diverse terrain.
Evolution Trillium: The quilted padded seat cushion and wide back strap pad provide the most comfortable seat. 8" wheels made of EVA foam provide a smooth ride. Cable-free brakes for safety and aesthetics.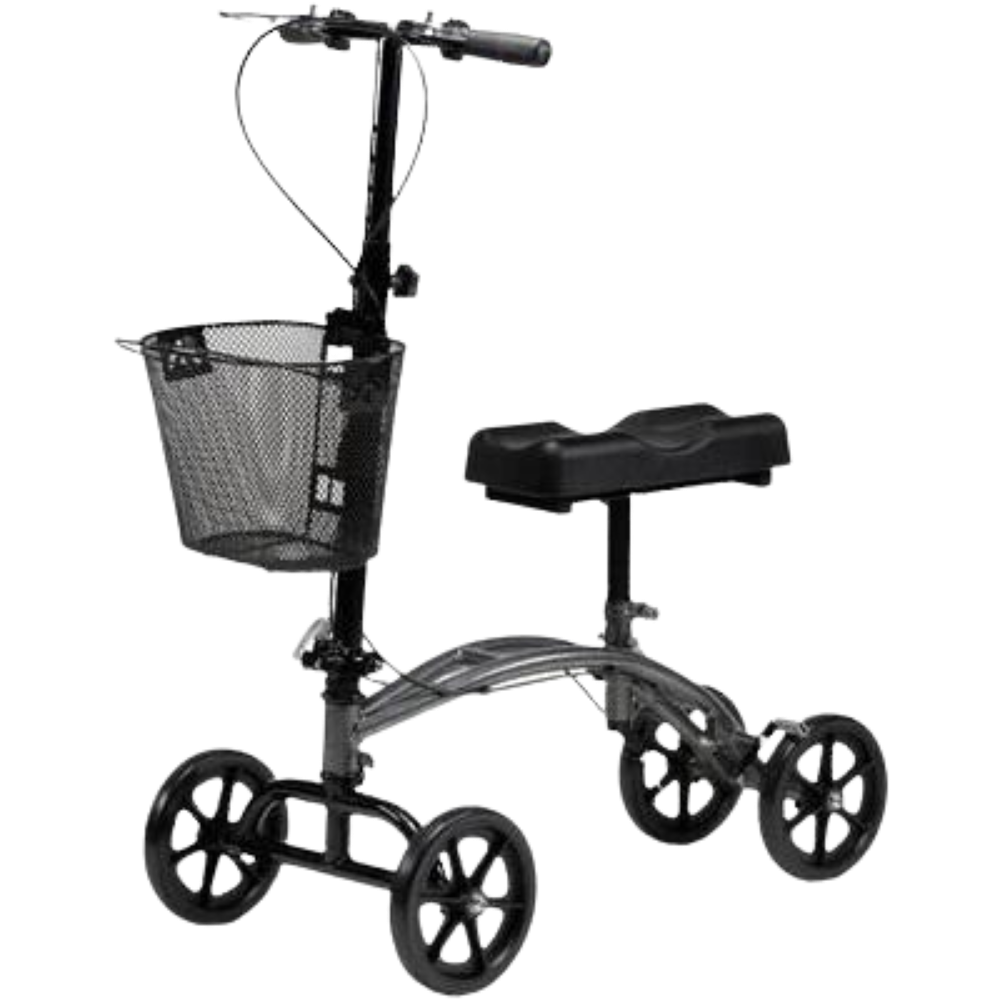 Knee Walkers
Knee walkers let you stride along with one knee on the walker and one foot pushing off the ground. They are useful for those recovering from surgery or injury, or those with lingering foot issues. You steer and brake like you would on a bicycle for maneuverability and safety. Features comfy knee padding and a removable front basket to take your belongings!
Models We Rent
We offer some of our walker models for rent for if you only need them for a short while, or you'd like to try before you buy. These are available for rent on a daily, weekly, or monthly basis.​
Standard 4-Wheel Rollators: In red and blue.
Steerable Knee Walkers: In adult and children's sizes.
Different Sizes Available
Mini/Hemi Height:
Ideal for users 5'2" (157cm) and below.
Regular Height:
Ideal for those in between 5'2" (157cm) and 6'0" (183cm).
Tall Height:
Ideal for users 6'0" (183cm) and above.
Extrawide/Heavy Duty:
For those who need a little more width for stability and to sit comfortably. Some models can support users up to 450lbs.
Proper Walking Sizing
We will size you so that the center of your wrist (while standing naturally) is at the handgrips. The handle height can adjusted for comfortable walking. You should be walking upright with good posture and a 15% bend in your elbows – this will prevent strain on your back and shoulders. You should step in line with the rear wheels of the rollator to prevent falling forward.
Proper Sitting Sizing
The seat height should be at the bend of your knee for safety and comfort while sitting down and standing up. You should be able to sit in a perched position, as opposed to treating the rollator as a recliner. We will have you try a mini, regular, or tall model to see which offers you the most comfort. The brakes should also be locked as you sit to prevent rolling away or falling.
Accessories
Walker Accessories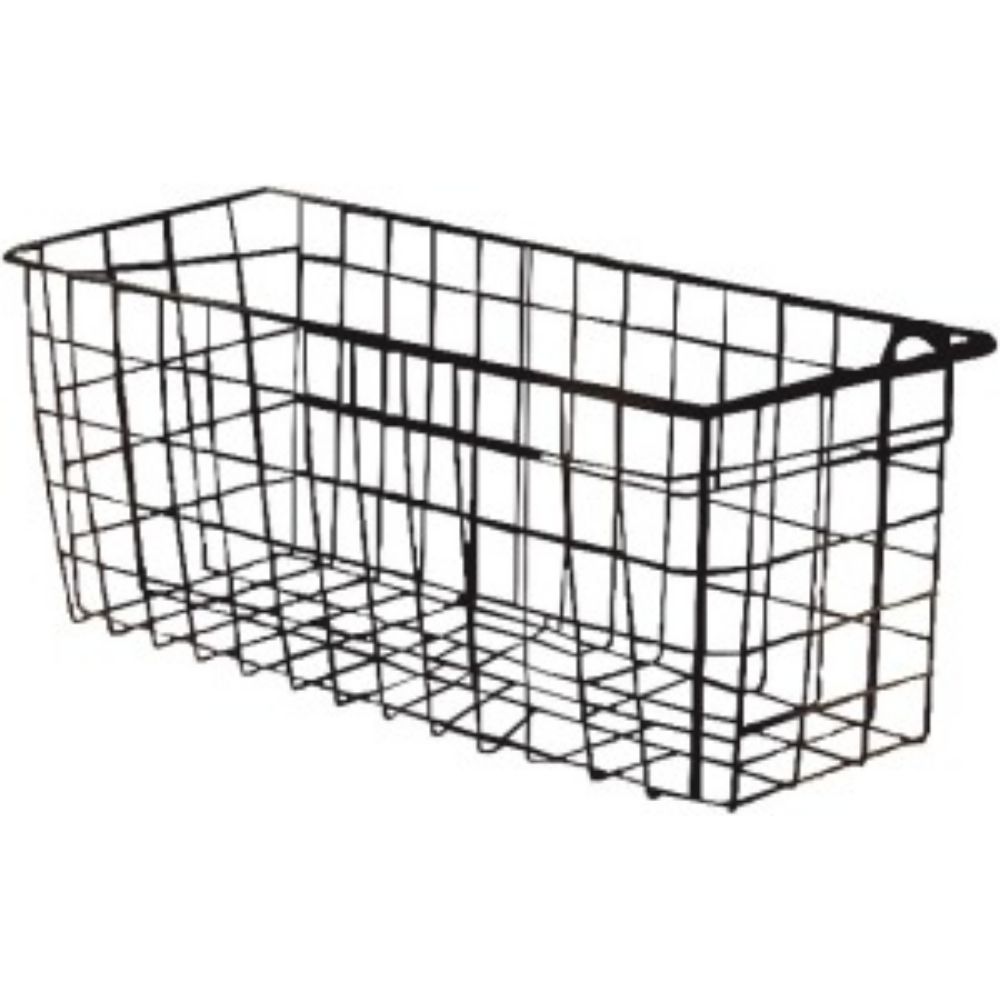 Tray/Caddy/Basket
Helps you carry your things from room to room.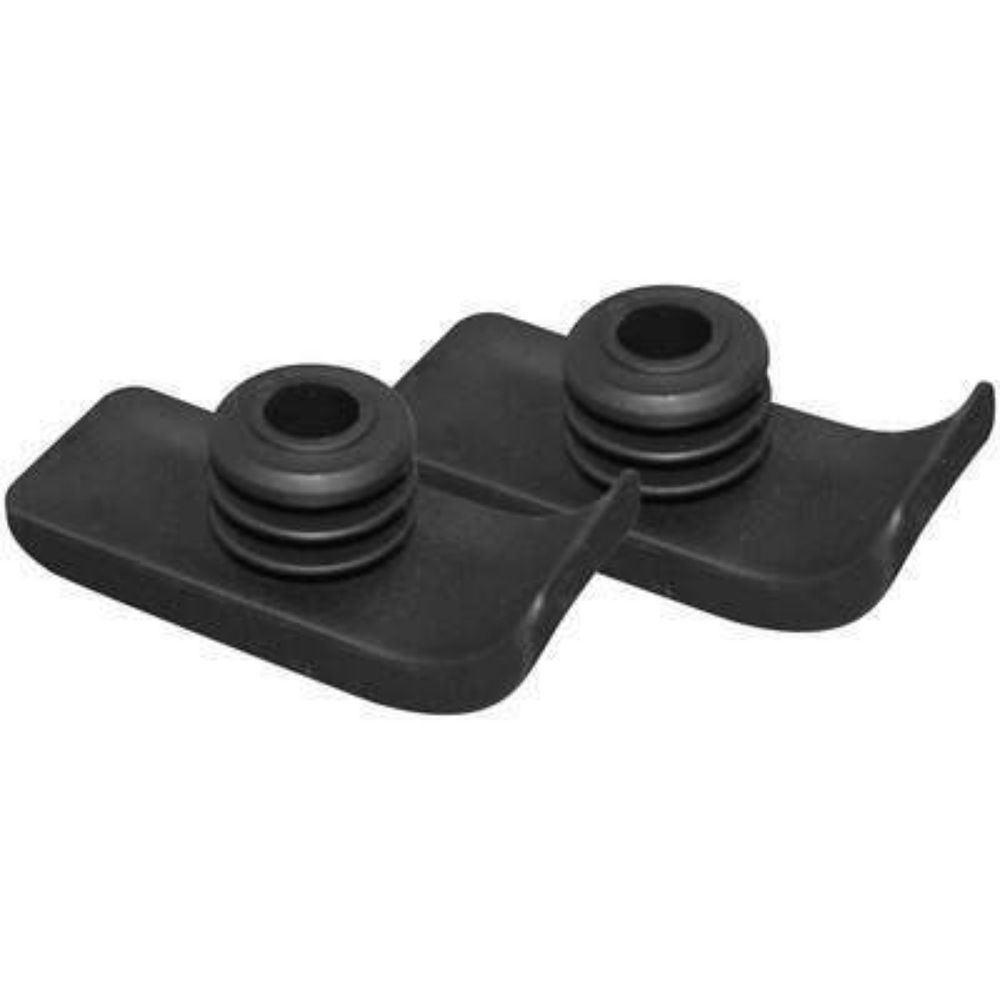 Glides/Pads/Skis:
Slide right along with skis, tennis balls, or sneakers!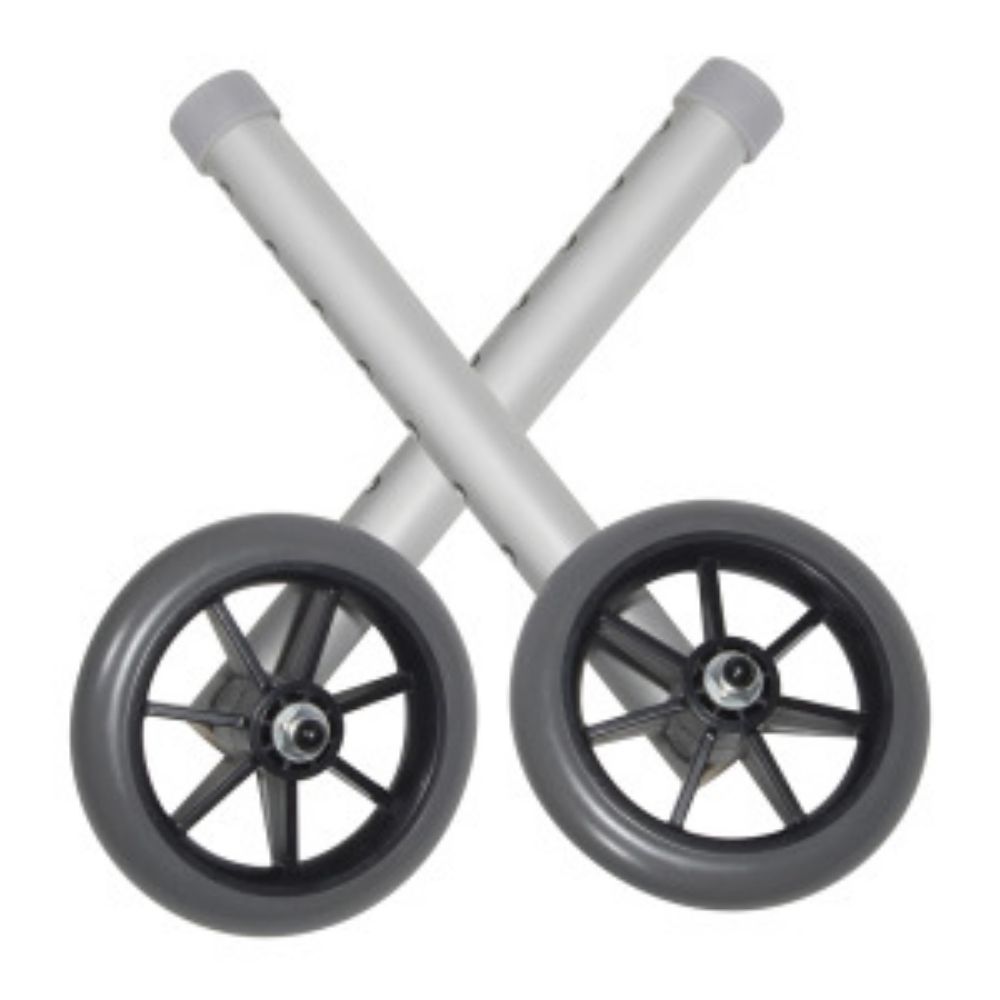 Wheels:
Useful for the front and/or back to roll easily over irregular surfaces.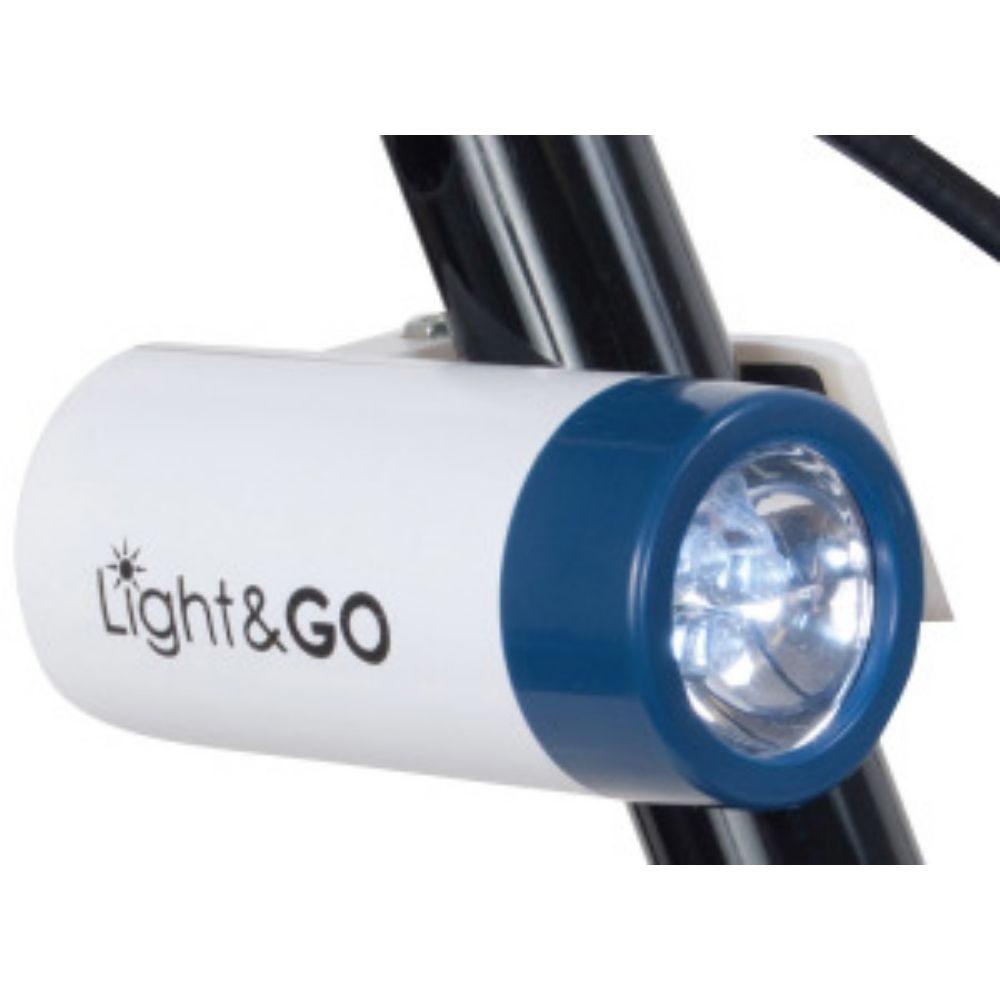 Light:
For safety and peace of mind. Motion activated for hands-free use.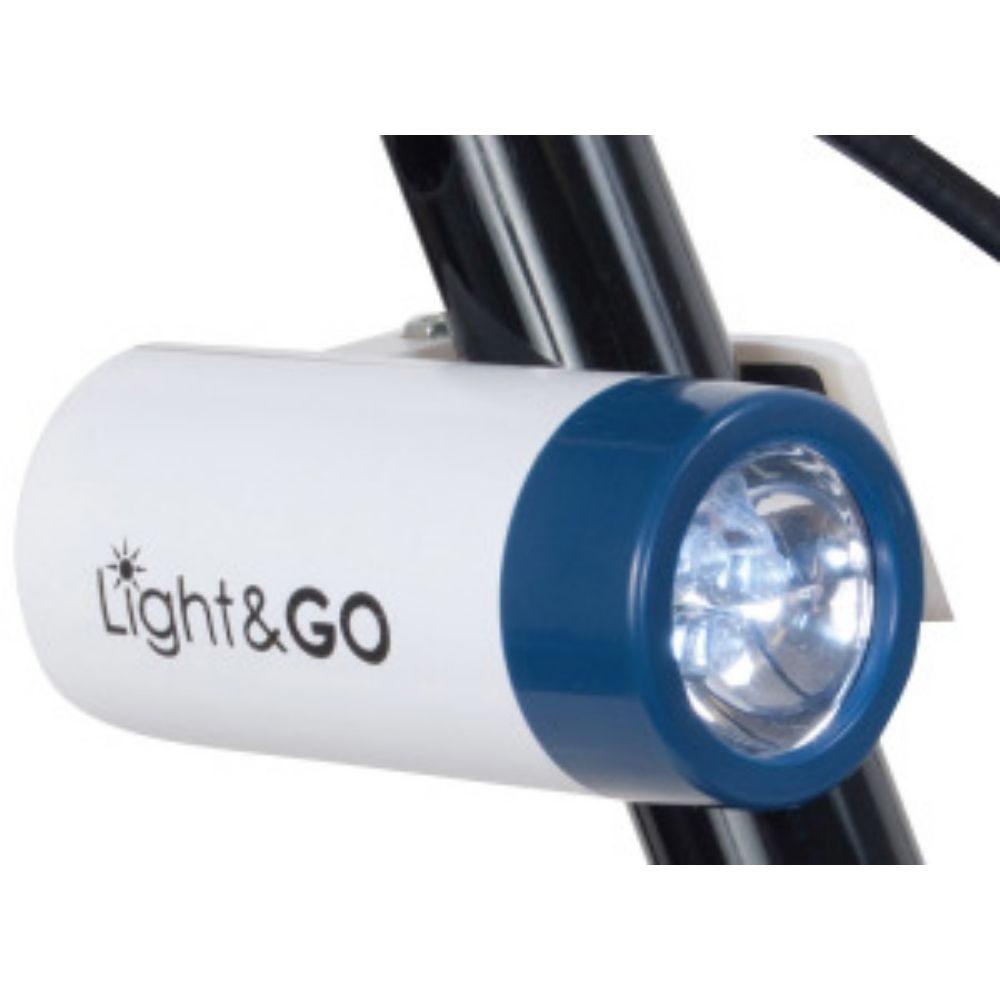 Light:
For safety and peace of mind. Motion activated for hands-free use.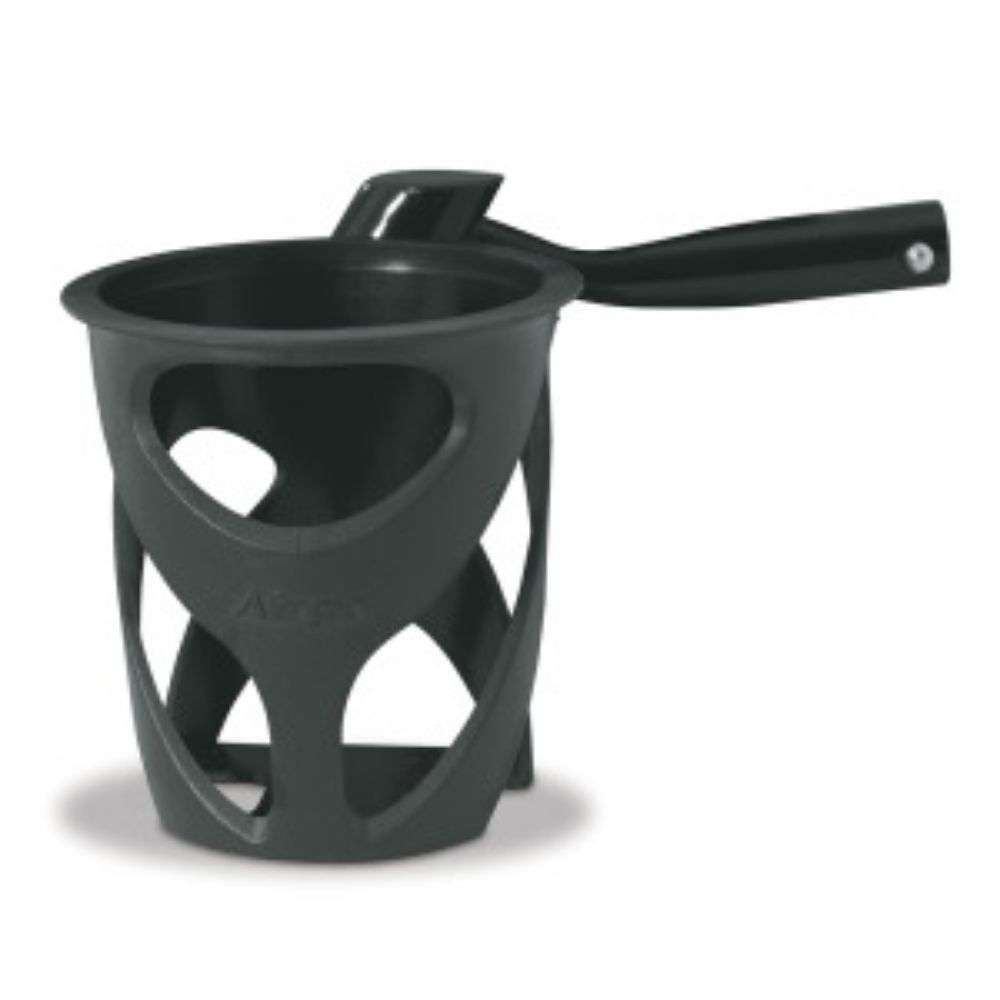 Cup Holder:
Stay hydrated wherever you go!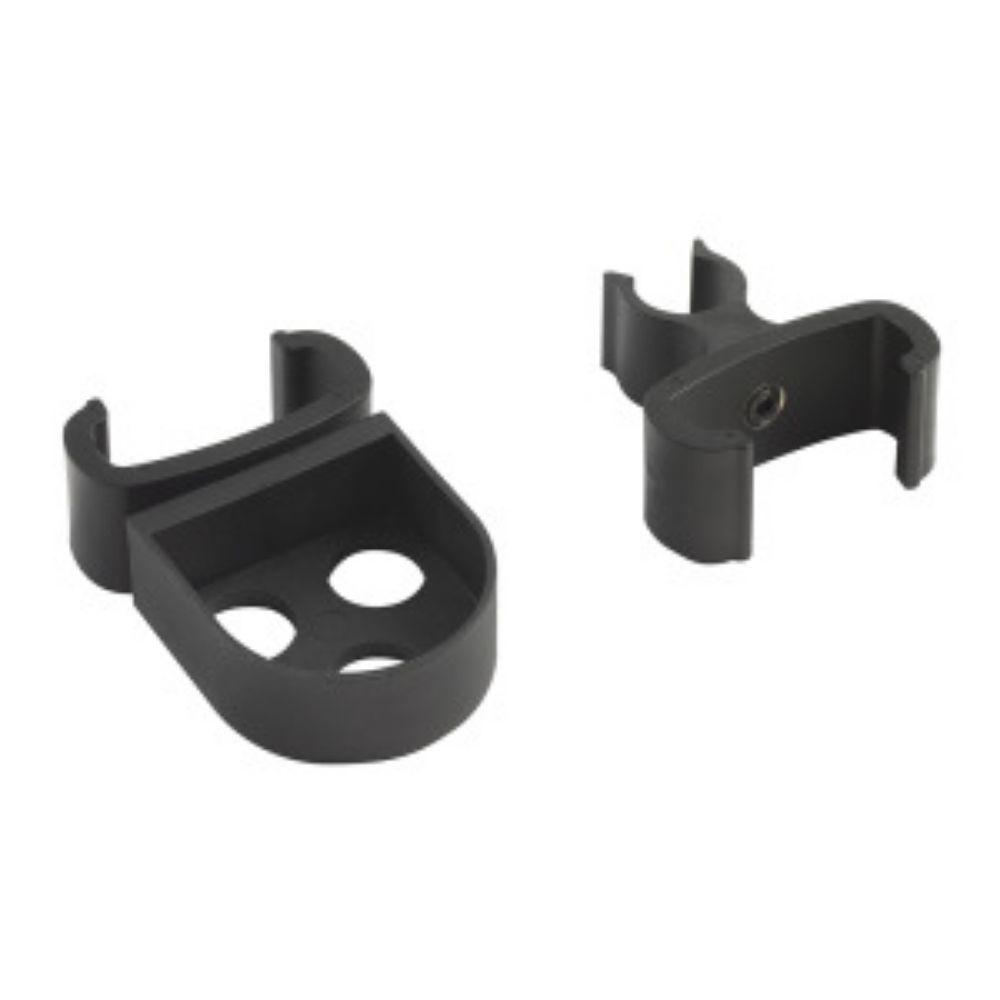 Cane Holder:
Keep your cane handy for where you can't use your rollator.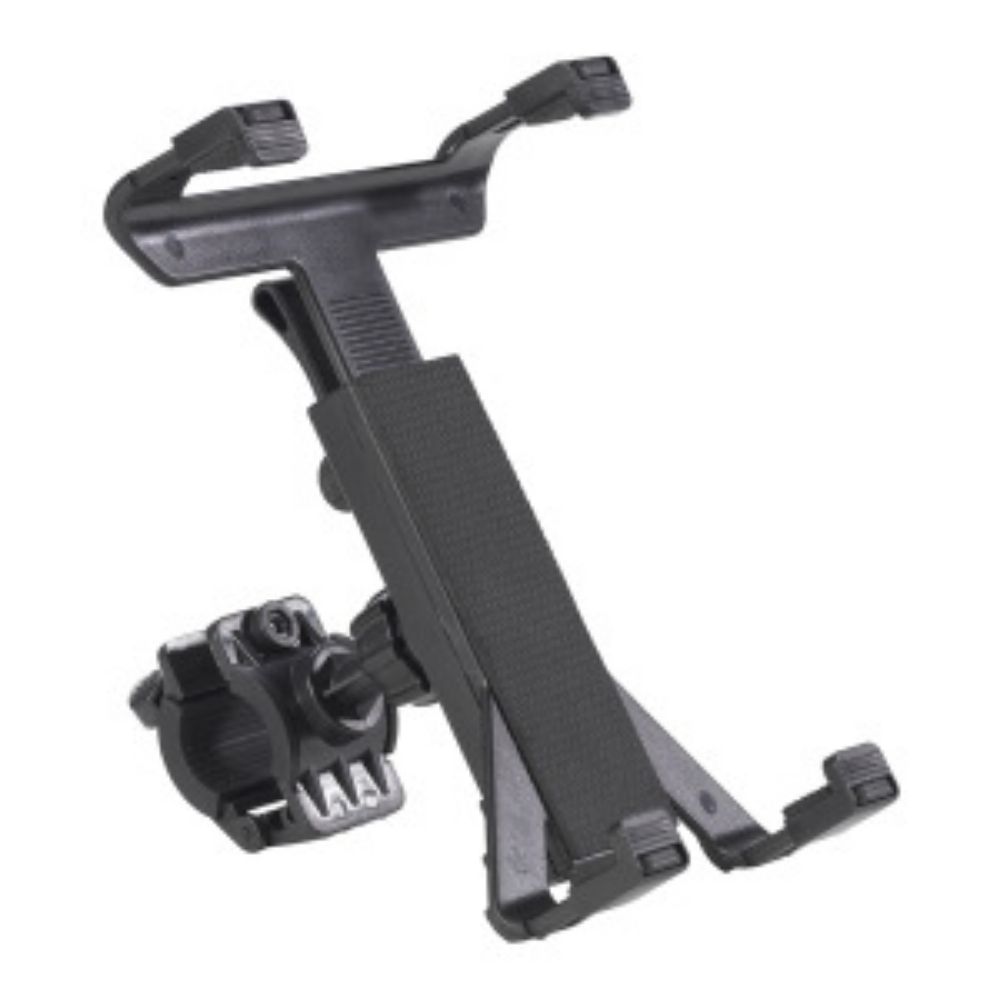 Cell Phone/Tablet Mount:
Take your devices with you and view them easily!
Visit our store to find the right walker or rollator for you!